Cool idea for a company event: Canoeing in Ticino, Switzerland
You are organizing the next company outing and ask yourself: what can be done as a special company event? Then our tip for a joint excursion with colleagues is: Get out of the office and into the canoe! If your next company event is not supposed to be a run-of-the-mill event, but a cool outdoor activity in Switzerland, you are welcome to join us on a canoe tour through the beautiful landscapes of Ticino!

Together we start canoeing at the village of Cresciano (Riviera district), which is particularly popular with outdoor sports enthusiasts. Depending on the group and previous knowledge, you can then go by canoe on the Fiume Ticino in the direction of Bellinzona.

As an activity for company events, canoeing on the Fiume Ticino is just as suitable for beginners as it is for experienced canoeists. It is also a good idea if you put together the small groups for your company activity in such a way that one person with experience leads the team.

But that is not necessary, because our proven guides will accompany you at the group event for companies and take care of your safety as well as the free photo service. And if you wish, they will also be happy to serve you an aperitif after the canoe tour, with which you can let the company outing come to a relaxed end.

In general, this extraordinary company event focuses on the idea that you can have fun together and playfully come together as a team while canoeing. The sun-kissed region, which shows its special beauty and variety in this section of Swiss Ticino, also ensures an atmospheric ambience. And if the temperatures are already playing along, then there is nothing wrong with rounding off canoeing as a company event with swimming in the crystal-clear water of the Ticino.
Book easily and flexibly: Your company event by canoe in Ticino
Are you looking for a special idea for the company outing that will completely inspire all participants without the preparations degenerating into stress? Then you are exactly right with purelements®! As an experienced provider of outdoor activities for companies and other groups, we have made booking your company outing to Ticino easy and flexible.

You can book the canoe tour for groups directly online with us and thus reserve the date, the number of participants and the desired tour as well as other extras. You will receive the tickets for your cool company outing directly by email. For every 12 participants booked, one guide is available to accompany your company outing as a private tour (regular tariff or higher).

The canoes that we provide for this wonderful idea for a company event are robust inflatable canoes that even beginners can use to paddle safely and happily on the Ticino. You strengthen your team spirit when you reach the first small rapids or by overcoming smaller distances as playful races and of course by getting in the mood for each other as a group while paddling.

But the best thing about this extraordinary activity for the company outing is experiencing and enjoying it together! Because team building does not only take place in competition or training, team spirit always arises when you create shared experiences and memories. Our free photo service and the great snapshots that you take home with you will ensure that your canoe trip together in Ticino will be a topic of conversation for a long time to come!

As the organizer of the team event canoeing in Switzerland, you also benefit from our advantageous group rates. For example, you can decide whether you want to choose the particularly favorable tariff because the date and the number of participants are certain. Or you book the Flex Plus tariff, which gives you a high degree of flexibility because you can change the date again or name substitute participants up to three days before the company event.
Here are a few tips for exciting Team Away days in Ticino
Arrival on Friday evening by car, bus or public transport.
Fine evening meal in a special restaurant or in a grotto with typical Ticino dishes: polenta, alpine cheese, Ticino platter, formagella, onion soup.
Enjoy the night life of Locarno or Lugano!
Good breakfast
Canoe tour with purelements®
Enjoy a cozy aperitif in the old town of Bellinzona
Dinner at Grottino Ticinese
Enjoy nightlife in Bellinzona
deserve a lie-in
Today is time for relaxation! And the best way to do that is at the Termali Salini & SPA in Locarno.
But if you still have a lot of energy and want to get out into nature, you can, for example, go hiking in Val Bavona and visit the Cascata of Foroglio!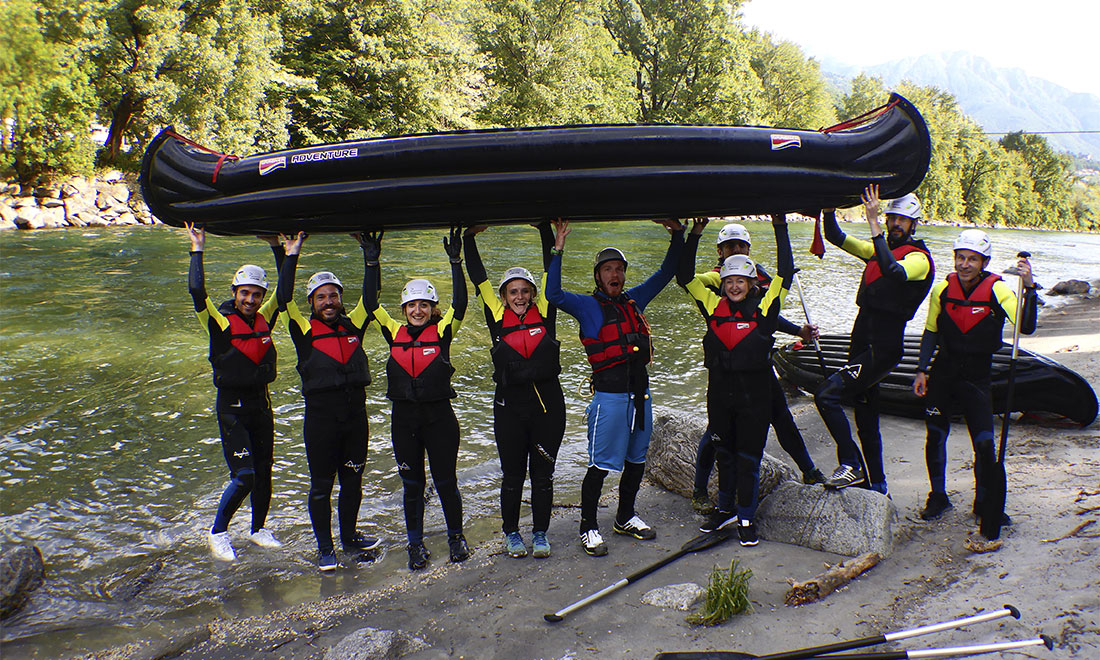 Great activities instead of standard events: more excursion tips for your team-away days
The Fiume Ticino is a tributary of the Po and flows about 90 km through Switzerland towards Italy. In German, the river and region are known as "Tessin". And anyone who has ever vacationed on Lake Maggiore, into which the Ticino flows, knows that an exceptionally beautiful landscape and the pure hospitality of Italian-speaking Switzerland await them at this company event.

Are you looking for more ideas for your company outing - for one or more team-away days? Then you are also well advised to take a trip to Ticino, because sociability and team spirit are good manners in this region.

If you want to stay with sporty activities, in addition to canoeing, you can hike to the Ponte Tibetano Carasc or along the Verzasca to Sonogno. Lake Maggiore invites you to water sports or swimming, and bungee jumping, skydiving or go-karting can also be easily organized here for company events.

With a wine tasting, a delicious cocktail or dinner in one of the restaurants where local specialties are served, you will get into conversation and review the adventure. A joint detour to the hip disco at the Vanilla Club or a relaxing end to the day at the spa is also a cool idea for the most unusual company outing you have ever experienced together!

All you have to do now is decide on one of our tariffs, fill out the registration form and determine the supporting program together with colleagues or team, so that you can then enjoy the anticipation of your great team building event.
We know how difficult it is to plan a group. On the day of the adventure, someone has to cancel or falls ill, which is why we have put together packages that will make it easier for you. You choose which tariff you want and have the specified no-shows (short-term cancellations, non-appearance at the event) included and, if the worst comes to the worst, we will even reimburse you in full. Furthermore, you only have to determine and report your final number of participants by the day specified in the tariff. This gives the organizer of the group flexibility and financial security.
Planning and implementation of the tour
Coordination of the canoe event on site
Supervision by certified purelements employees (certified canoe guides)
Guide-guest ratio is a maximum of 1:12
No time pressure!
Special equipment required for the tour
Photo service
Own safety standards for canoe tours
A general state of health in good health. Health impairments are taken into account when planning the tour.
Restrictions on swimming skills also.
tariff
minimum
Attendees
No-Shows ⓘ

depending on the tariff, you have a certain number of no-shows




inclusive (no-show)




means no-show on the day of the event




despite booking made) In addition, you must your




final number of participants up to the specified




Notify us of the time!

photo service
Meeting-
modification
ⓘ

Depending on the tariff, you can keep the appointment until the specified date




Change the time if necessary extra costs are due

Substitute-
Attendees
ⓘ

Depending on the tariff, you can




Exchange participants and a substitute participant




if necessary, extra costs are due

private tour
ⓘ In the case of a private tour, we do not book any more
participants to your group. you are alone
as a group with the guides on the way.
aperitif
ⓘ

Depending on the tariff, you can book an aperitif or not,




the aperitif is already included in the premium tariffs.

Flexible
start time
ⓘ

With this option you can create your own,




choose an individual start time according to your needs.

Free
person
ⓘ

This option indicates whether an accompanying

person


(bachelor, birthday child) comes on tour for FREE

Guides/
guest ratio
ⓘ

indicates how many guests




by a guide maximum




are cared for

super saver
12 people
no no shows included
final TN up to 14 days before

✓

✗

✗

✗

✗

✗

✗

1:12
saver
10 people
1 no show included
final TN up to 10 days before

✓

✓

CHF 5 per person
up to 7 days before

✓

up to 3 days before the event
15 CHF per transfer

✗

✗

extra bookable

✗

✗

1:12
Regular
8 people
up to 2 no-shows included
and 100% refundable
final TN up to 7 days before

✓

✓

up to 7 days before

✓

until the day of the event
15 CHF per transfer

✓

from 24 people
included

✗

extra bookable

✗

✗

1:12
Flex
8 people
up to 3 no-shows included
and 100% refundable
final TN up to 7 days before

✓

✓

up to 3 days before

✓

until the day of the event,
free of charge

✓

✓

✗

✗

1:12
FlexPlus
8 people
up to 5 no-shows included
and 100% refundable
final TN up to 3 days before

✓

✓

up to 3 days before

✓

until the day of the event
free of charge

✓

✓

✓

✓

1:12
Supporting program and alternatives for group members who do not want to go on a canoe tour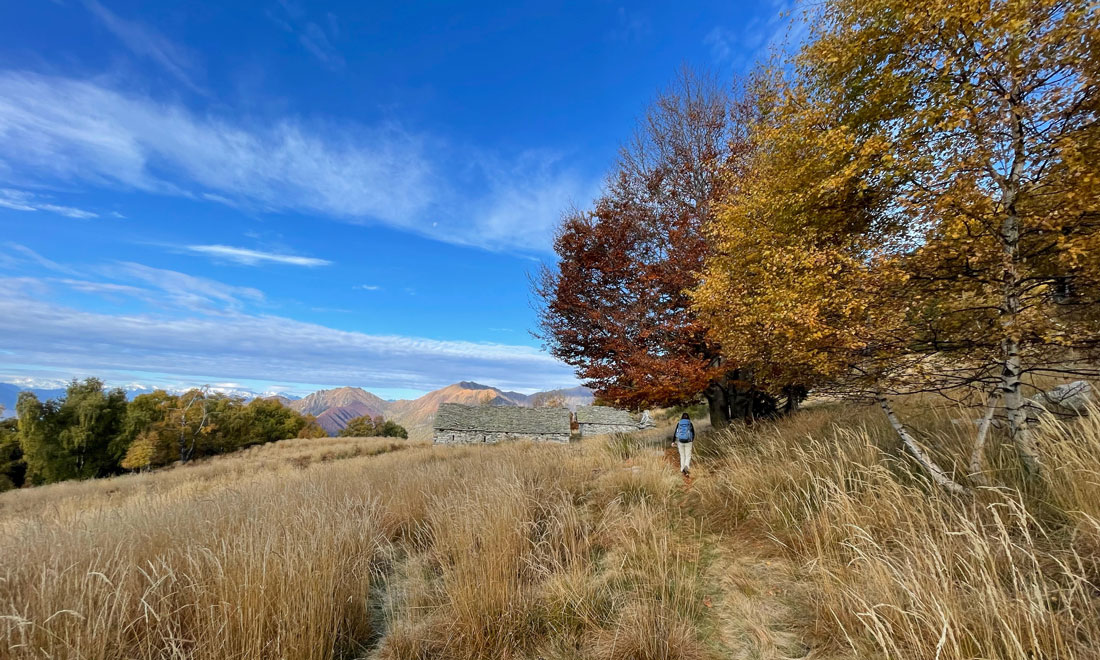 Ponte dei Salti in Lavertezzo
Visit Ascona
Wine tasting Ticino
Visit Bellinzona and its castles
Enjoy a cocktail at the Lido di Locarno
Go to the disco at the Vanilla Club
Splash & Spa Rivera
Those who do not want to do the canoe tour can take the driver or public transport to the beach in Arbedo and have something at the bar there, enjoy the river and wait for colleagues.
Hike to the Ponte Tibetano Carasc
Canyoning tour with purelements®
Visit Bellinzona and its castles
Water activities on Lake Maggiore
Hike from Cardada