Helicopter canyoning in Ticino: "For experts only!"
Are you looking for a new challenge?
We have the answer: helicopter canyoning! Yes, you read that right, canyoning with a helicopter – like heli-skiing in Canada, only this time with canyoning in Ticino. Instead of a strenuous ascent of over 3 hours into the mountains of Ticino, we use the helicopter from our flight partner Heli-TV, which is stationed at the Lodrino Airbase. A great opportunity to combine the desire to have flown in a helicopter with some of the most famous canyoning gorges in the world.

Have you already done canyoning several times with us or another canyoning guide in Ticino? Do you now feel ready for an extraordinary and very demanding canyoning tour? Then it's time to book this fantastic adventure!
Video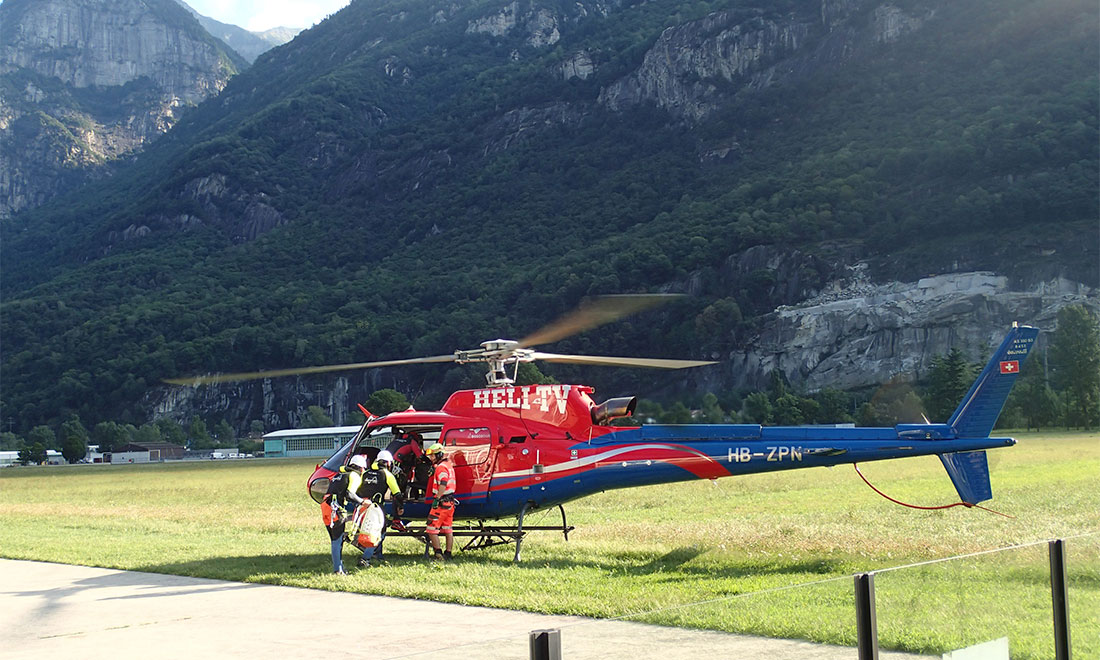 Heli-canyoning in Ticino is for canyoning enthusiasts looking for adrenaline and pure nature!
Let's go to the canyoning Mecca of Ticino, Switzerland. In the valleys leading down from the Gotthard and San Bernardino passes, after the last ice age, extraordinarily beautiful and unexpectedly many gorges formed in hidden branches. Many of the gorges, which are fed with crystal clear water, are accessible as canyons and offer a variety of different levels of difficulty, jumps, slides and rappelling points.

You already know the canyoning equipment, you have mastered the various jumping, sliding and abseiling techniques and you already have a feel for the Ticino rock granite and gneiss. At dawn we set off for a very special highlight in Ticino. Helicopter canyoning!

The helicopter takes us to the entrance of the gorge. During the flight over the Riviera Valley and the towns of Lodrino, Cresciano and Osogna, you will get a first impression of what awaits you. The experienced pilot swings the helicopter into the gorge and flies up, following the course of the stream. We gain altitude quickly and after a few minutes we have already reached the landing platform. The pilot skillfully puts the helicopter on the ground and we get out in the forest clearing. After a short hike of a few minutes downhill, we now have 7-10 hours of superlative canyoning ahead of us. Countless waterfalls with cool jumps and slides in all variations are waiting for us.

This tour is ideal, for example, for a long weekend, a men's excursion or a special kind of bachelor party. Here, canyoning advanced and experienced riders get their money's worth.

The heli-canyoning Boggera and Osogna are our standard variants for helicanyoning in Ticino from which you can choose! Both tours are on an expert level.