header
Bachelor party with canyoning
Bachelor party: extraordinary ideas for men and women
Your best friend is getting married and you're wondering what to do with a bachelor party? Because you have the difficult task of organizing a bachelor party (JGA) or a bachelor(ette) party? Are you looking for an idea for a bachelor party that will really bring you together as a group of friends with excitement and fun?

Then a group canyoning as an event for the bachelor party is just right for you! Together with the bride or groom you go on a fantastic canyoning tour and celebrate a cool bachelor party in Ticino, Switzerland. As a private group, you will be accompanied by an experienced guide who will take care of your safety and the optimal course. With a sparkling aperitif, for example, with great photos that he takes of your coolest and funniest moments, and of course with his easy-going manner, which helps to ensure that your bachelor party, whether for men or women, is a complete success.

The idea for the extraordinary bachelor/bachelorette party brings you an eventful day or a weekend full of good mood. Tour and activities for the JGA in Ticino are also easy to organize and carry out. Simply register as a group and let us know when you would like the bachelor(ette) party to take place! And benefit from exciting tours, flexible offers and great tips on how to celebrate the JGA as an outdoor event with other activities and in a party mood.

Become friends, stay friends and celebrate the farewell to the bride or groom together with an outdoor event where you get to know each other: This is the additional added value of your bachelor/bachelorette party at canyoning in Switzerland that a standard event gives you just can't offer.
Canyoning as a JGA in Ticino: recommended by enthusiastic women and men!
Canyoning is a sport made to be experienced with friends. Impressive nature, lots of variety and tingling challenges that you master together are elements that distinguish the outdoor event from the usual run-of-the-mill ideas for the JGA.

Have you taken on the task of planning the bachelor party and are you looking for ideas on which activities are suitable? Then it's best to think about who will take part in it in advance. You can choose from three guided tours at purelements®, so that anyone who has sturdy shoes and dares to spend several hours outdoors can take part in a canyoning bachelor party:

For example on a try-out tour through the Val di Vira, which is eventful as a taster course, but can also be mastered by anyone who does not do sports regularly. The focus here is not on the extreme challenge, but on the shared experience and the fun that connects you while climbing, sliding and abseiling.

The situation is similar if you move your bachelor party to the gorge near Corippo. During the tour you will get to know the legendary place up close and conquer your way through the canyon together in a picturesque ambience.
Finally, during group canyoning in Boggera, which we organize for your bachelorette party in Ticino, you come into direct contact with the power of the elements and celebrate the dynamic that this creates in the group.
Here are a few tips for a successful bachelor and bachelorette party weekend in Ticino
Arrival on Friday evening by car, bus or public transport.
Fine evening meal in a special restaurant or in a grotto with typical Ticino dishes: polenta, alpine cheese, Ticino platter, formagella, onion soup.
Go to bed early to be fit for the canyoning tour 😉
Good breakfast

Canyoning tour with purelements®

Enjoy an aperitif on Lake Maggiore

Dinner at the Grotto Baldoria in Ascona

A cozy evening at the Lido di Locarno or a wild party in the largest disco in Ticino (Vanilla Club, make sure you reserve seats in advance!) as an alternative Pix Club in Ascona
deserve a lie-in

Canoe tour on the Fiume Ticino or rent a pedalo in Ascona and spend a relaxing day on the lake!

But if part of the group prefers action and the rest prefers relaxation, the Splash and Spa in Rivera is just the thing!

After a weekend like this, you can only go home in a good mood and relaxed

😀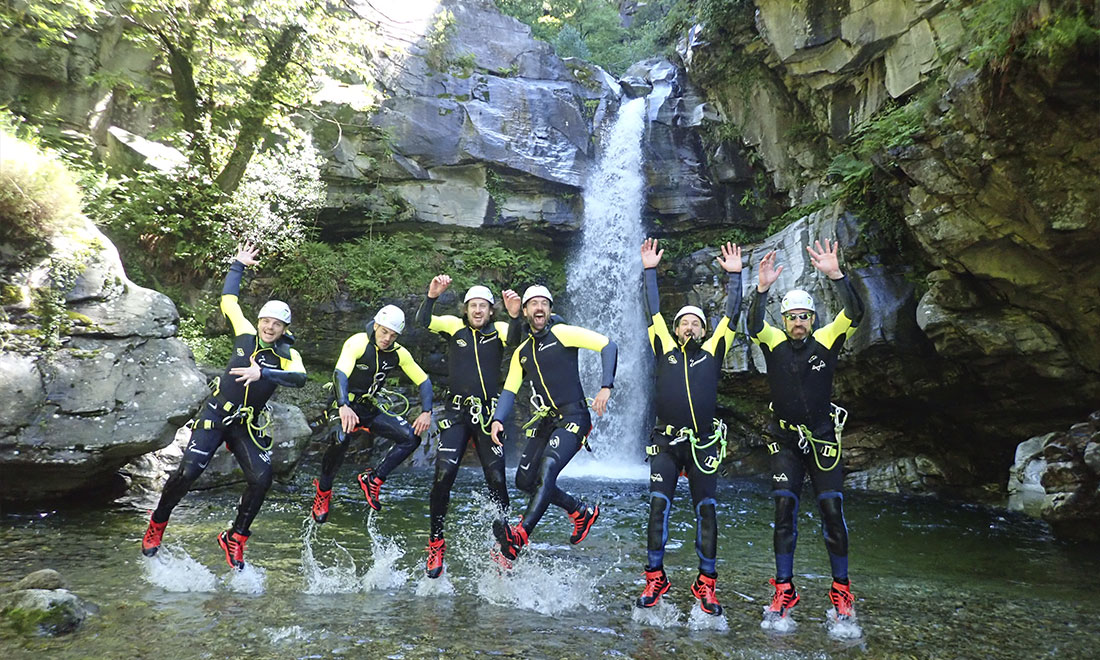 Flexible rates and tips for an eventful weekend at a bachelor party in Ticino
To make planning the JGA easier for you, we offer five different rates for your group event, bachelorette party with canyoning. Depending on the selected tariff, you can specify, for example, whether a fixed start date is essential for you or whether you are flexible. The number of participants (6 to 50), a flexible change of date and much more can be included in the selection.

If you are looking for ideas for a bachelor party in Switzerland that ideally complement canyoning, you will find great excursion destinations and locations in Ticino. This is also a great way to use the evening bachelor(ette) party or a whole weekend for the bachelor party. You can choose, for example, a canoe tour on the Fiume Ticino, a hike, great water activities on Lake Maggiore, bowling, go-karting, a cultivated visit to a restaurant, a wine tasting and much more, because in Ticino there are opportunities to have fun and live together to celebrate, uncounted.

A great idea for saying goodbye to being single for women and men could look like this:

You arrive on Friday and book a delicious meal in a restaurant with typical Ticino dishes. On Saturday, after a good breakfast, you can go on a canyoning tour with purelements.
You will then chill together on Lake Maggiore, regain your strength with a delicious dinner in a "grotto" and let off steam at a wild party in one of the hottest clubs in Ticino. Depending on your mood, budget and schedule, you can make your way home on Sunday morning or spend another relaxing day at the lake or in the spa!

Of course, after such an eventful weekend, one is not necessarily happy to return to everyday life. But we know from experience: You will return home full of extraordinary experiences and positive vibes. And the bride or groom will wholeheartedly reaffirm the bond with you, their friends, who gave them such a great gift for their bachelor party in Ticino!
We know how difficult it is to plan a group. On the day of the adventure, someone has to cancel or falls ill, which is why we have put together packages that will make it easier for you. You choose which tariff you want and have the specified no-shows (short-term cancellations, non-appearance at the event) included and, if the worst comes to the worst, we will even reimburse you in full. Furthermore, you only have to determine and report your final number of participants by the day specified in the tariff. This gives the organizer of the group flexibility and financial security.
Planning and implementation of the tour
Coordination of the canyoning event on site
Support from certified purelements employees (certified canyoning guides)
Guide-guest ratio is maximum 1:7 or 1:8
No time pressure!
Special equipment required for the tour
Photo service
Own safety standards for canyoning
A general state of health in good health. Health impairments are taken into account when planning the tour.
Restrictions regarding a head for heights and swimming skills as well.
tariff
minimum
Attendees
No-Shows ⓘ

depending on the tariff, you have a certain number of no-shows




inclusive (no-show)




means no-show on the day of the event




despite booking made) In addition, you must your




final number of participants up to the specified




Notify us of the time!

photo service
Meeting-
modification
ⓘ

Depending on the tariff, you can keep the appointment until the specified date




Change the time if necessary extra costs are due

Substitute-
Attendees
ⓘ

Depending on the tariff, you can




Exchange participants and a substitute participant




if necessary, extra costs are due

private tour
ⓘ In the case of a private tour, we do not book any more
participants to your group. you are alone
as a group with the guides on the way.
aperitif
ⓘ

Depending on the tariff, you can book an aperitif or not,




the aperitif is already included in the premium tariffs.

Flexible
start time
ⓘ

With this option you can create your own,




choose an individual start time according to your needs.

Free
person
ⓘ

This option indicates whether an accompanying

person


(bachelor, birthday child) comes on tour for FREE

Guides/
guest ratio
ⓘ

indicates how many guests




by a guide maximum




are cared for

super saver
12 people
in Val Vira
10 people
in Boggera & Corippo
no no shows included
final TN up to 14 days before

✓

✗

✗

✗

✗

✗

✗

1:8
saver
8 people
1 no show included
final TN up to 10 days before

✓

✓

CHF 5 per person
up to 7 days before

✓

up to 3 days before the event
15 CHF per transfer

✗

✗

extra bookable

✗

✗

1:8
Regular
6 persons
up to 2 no-shows included
and 100% refundable
final TN up to 7 days before

✓

✓

up to 7 days before

✓

until the day of the event
15 CHF per transfer

✓

from 12 people
included

✗

extra bookable

✗

✗

1:8
Flex
6 persons
up to 3 no-shows included
and 100% refundable
final TN up to 7 days before

✓

✓

up to 3 days before

✓

until the day of the event,
free of charge

✓

✓

✗

✗

1:7
FlexPlus
6 persons
up to 5 no-shows included
and 100% refundable
final TN up to 3 days before

✓

✓

up to 3 days before

✓

until the day of the event
free of charge

✓

✓

✓

✓

1:7
Framework program and alternatives for group members who do not want to do canyoning