header
Canoe tour for associations and clubs
Canoe tour for associations and clubs – excursion tips for an exclusive group event
To strengthen the club life or the cohesion in the club, a joint excursion is a good idea. However, the problem with standard outings such as going to the theater or eating together in a restaurant is that you don't get enough action together.

It is then better to plan activities for the club outing that take everyone out of their usual surroundings and help the group experience a lot of exciting things together during the outing. Canoeing for associations and clubs in Ticino offers you exactly this opportunity. The fun factor is high and you will spend a great time together in one of the most beautiful regions of Switzerland, during which you will get to know each other better and rely on each other.

Three to four people can ride in the hose canoes we provide. Together you paddle on the rather calm current from Cresciano to Bellinzona. Depending on your previous knowledge and confidence, you can of course also book rafting as a club or association, where you can make your first experiences with white water, which can also be mastered by beginners.

The advantage of such a tour compared to other run-of-the-mill club outings is that you can mix and match as a group again and again. During the journey together, when sharing the canoes, while swimming in the crystal-clear water (optional), at an aperitif that our guides organize for you and during other activities that you combine with the club excursion to fabulous Swiss Ticino.

So whether you are looking for an idea for an excursion with the garden club, the marching band or the carnival club - the canoe trip on the Ticino is an extraordinary excursion destination and can be perfectly combined with many other excursion tips for clubs and associations.
Flexible planning and experienced guides: This is how you can get your club life going with a canoe trip
Mountains, palm trees, sunny beaches and chestnut forests – Italian-speaking Switzerland is known for its special scenic charm. So if you are looking for an unusual club outing, you are well advised to go canoeing on the Ticino.

As an experienced provider of outdoor events for associations, groups and clubs, we at purelements® also know how difficult it can be for the organizer to reconcile all wishes and requirements. That's why we offer you different tariffs and conditions that you can tailor to your group.

You don't have to worry about the equipment you need for canoeing as a club either, because we provide the robust inflatable canoes as well as other equipment that is needed for your club's canoe tour. You only need to have personal items like a change of clothes or sunscreen with you.

And so that you can concentrate fully on yourself as a group, we organize the cool club excursion exclusively for you - so there are no people from outside the club present, with the exception of our guides, who give you brief instructions on canoeing and accompany you with safe kayaks and carry out the free photo shoot so that you can take home the most beautiful snapshots at the end.

You can book the canoe trip on the Ticino as an excursion idea for clubs online with us for groups of all sizes. If you want to add new impetus to your club life with other extraordinary experiences, you can also combine the canoe trip as a group with one of our canyoning tours.

Special destinations for a day trip with the association are also the famous bridges in the region - the pedestrian bridge Ponte de Salti, which rises in curves over the Verzasca basin, or the Tibetan suspension bridge Carasc, which is 130 meters high and has to be crossed may require a little courage and mutual support.
Here are a few tips for a successful club weekend in Ticino
Arrival on Friday evening by car, bus or public transport.
Fine evening meal in a special restaurant) or in a Gotto (link with typical Ticino dishes.
Go to bed early to be fit for the canoe tour ;D
We recommend L'ostello Montebello in Bellinzona as accommodation!
Good breakfast
Canoe tour with purelements®
Enjoy an aperò at the Spiaggetta di Arbedo or enjoy an ice cream in Bellinzona!
Dinner at the Casa del Popolo restaurant in Bellinzona
A cozy evening in Bellinzona or a real party at the Woodstock Music Club in Arbedo!
deserve a lie-in
Hike along the Verzasca to Sonogno or Splash & Spa in Rivera! If more action is desired, we can of course also do one
Organize a canyoning tour!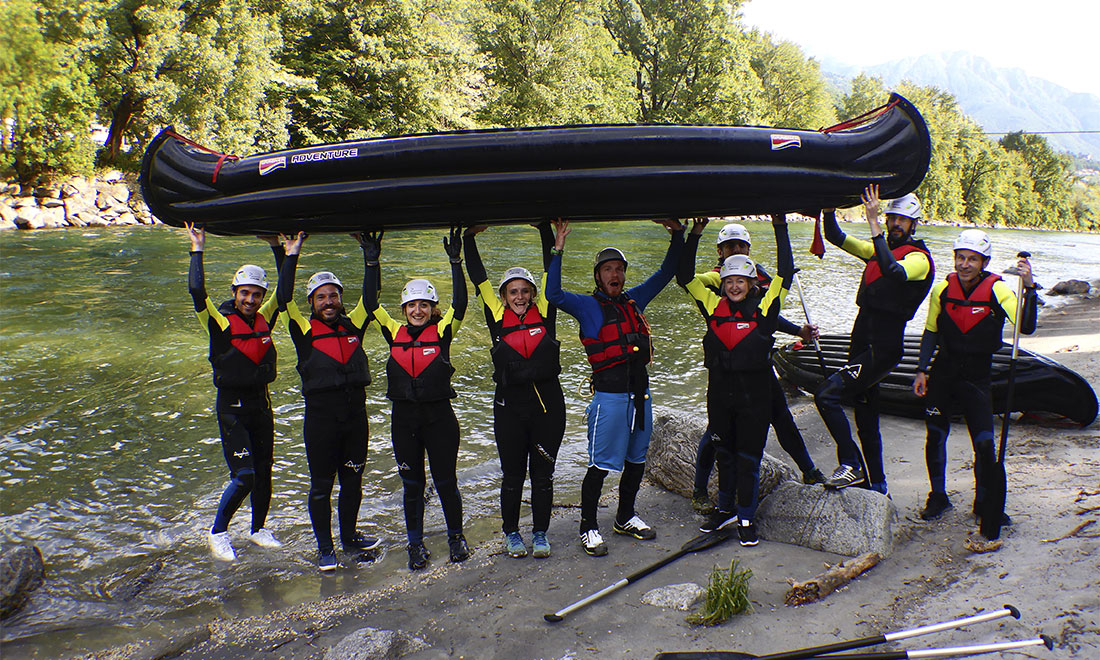 Excursion tips and ideas for a weekend trip with the association or club
What and how much you plan for your club outing naturally depends on what you want to experience together as a group and what goals you associate with it. Age, your interests, physical fitness and the length of your stay can also be decisive.

Even the canoe trip on the Ticino offers you enough opportunity to experience something cool together as a group and to get into conversation. If you want more sport, games and fun for your multi-day club outing, you can plan a trip to Lake Maggiore. If you as a club are interested in the culture and history of the region, the cities of Ascona and Bellinzona will tempt you with their numerous historical sights.

As a garden club or nature lover, you will surely be enthusiastic about the botanical garden on the Brissago Islands (Isole di Brissago), to which a shuttle boat will take you. You can take part in a short free tour there or register in advance as a group for a one-hour paid tour.

In general, such a club trip to Ticino is usually very easy to organize, because the region is a popular destination for tourists and groups who are planning a particularly beautiful and exciting trip.

In addition to the canoe trip for the club, accommodation and events can usually be booked online - simply decide whether you are in the mood for a luxury hotel or whether you prefer a rustic camping trip, whether you want to have a snack in a grotto or a banquet in a three-star hotel - Want to enjoy the restaurant.

If you would like to explore Ticino's nightlife during your club outing, numerous clubs and discotheques as well as great street artists await you, who also give the night owls great pleasure with small performances.
We know how difficult it is to plan a group. On the day of the adventure, someone has to cancel or falls ill, which is why we have put together packages that will make it easier for you. You choose which tariff you want and have the specified no-shows (short-term cancellations, non-appearance at the event) included and, if the worst comes to the worst, we will even reimburse you in full. Furthermore, you only have to determine and report your final number of participants by the day specified in the tariff. This gives the organizer of the group flexibility and financial security.
Planning and implementation of the tour
Coordination of the canoe event on site
Supervision by certified purelements employees (certified canoe guides)
Guide-guest ratio is a maximum of 1:12
No time pressure!
Special equipment required for the tour
Photo service
Own safety standards for canoe tours
A general state of health in good health. Health impairments are taken into account when planning the tour.
Restrictions on swimming skills also.
tariff
minimum
Attendees
No-Shows ⓘ

depending on the tariff, you have a certain number of no-shows




inclusive (no-show)




means no-show on the day of the event




despite booking made) In addition, you must your




final number of participants up to the specified




Notify us of the time!

photo service
Meeting-
modification
ⓘ

Depending on the tariff, you can keep the appointment until the specified date




Change the time if necessary extra costs are due

Substitute-
Attendees
ⓘ

Depending on the tariff, you can




Exchange participants and a substitute participant




if necessary, extra costs are due

private tour
ⓘ In the case of a private tour, we do not book any more
participants to your group. you are alone
as a group with the guides on the way.
aperitif
ⓘ

Depending on the tariff, you can book an aperitif or not,




the aperitif is already included in the premium tariffs.

Flexible
start time
ⓘ

With this option you can create your own,




choose an individual start time according to your needs.

Free
person
ⓘ

This option indicates whether an accompanying

person


(bachelor, birthday child) comes on tour for FREE

Guides/
guest ratio
ⓘ

indicates how many guests




by a guide maximum




are cared for

super saver
12 people
no no shows included
final TN up to 14 days before

✓

✗

✗

✗

✗

✗

✗

1:12
saver
10 people
1 no show included
final TN up to 10 days before

✓

✓

CHF 5 per person
up to 7 days before

✓

up to 3 days before the event
15 CHF per transfer

✗

✗

extra bookable

✗

✗

1:12
Regular
8 people
up to 2 no-shows included
and 100% refundable
final TN up to 7 days before

✓

✓

up to 7 days before

✓

until the day of the event
15 CHF per transfer

✓

from 24 people
included

✗

extra bookable

✗

✗

1:12
Flex
8 people
up to 3 no-shows included
and 100% refundable
final TN up to 7 days before

✓

✓

up to 3 days before

✓

until the day of the event,
free of charge

✓

✓

✗

✗

1:12
FlexPlus
8 people
up to 5 no-shows included
and 100% refundable
final TN up to 3 days before

✓

✓

up to 3 days before

✓

until the day of the event
free of charge

✓

✓

✓

✓

1:12
Supporting program and alternatives for group members who do not want to go on a canoe tour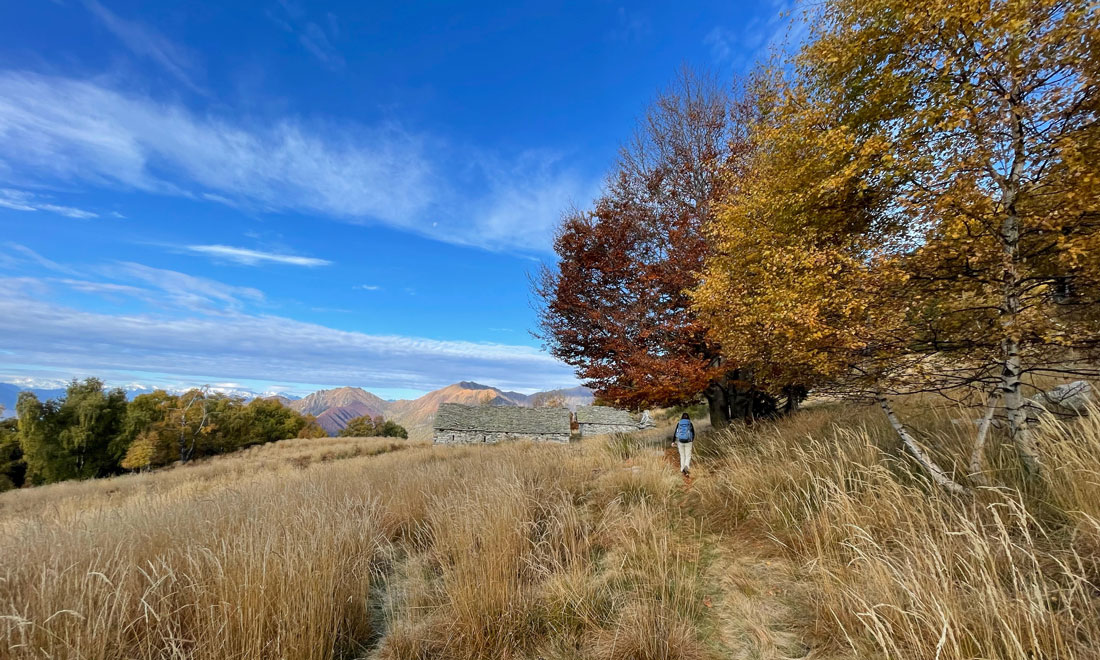 Ponte dei Salti in Lavertezzo
Visit Ascona
Wine tasting Ticino
Visit Bellinzona and its castles
Enjoy a cocktail at the Lido di Locarno
Go to the disco at the Vanilla Club
Splash & Spa Rivera
Those who do not want to do the canoe tour can take the driver or public transport to the beach in Arbedo and have something at the bar there, enjoy the river and wait for colleagues.
Hike to the Ponte Tibetano Carasc
Canyoning tour with purelements®
Visit Bellinzona and its castles
Water activities on Lake Maggiore
Hike from Cardada