header
Canoe tour for school groups
Canoe tour for school groups – ideas for an unusual school trip
Do you want to plan a cool school trip that is fun for everyone and strengthens class cohesion? Would you like to let off steam at an outdoor event in Ticino and be part of it as a group? Then simply book a canoe trip for school classes on the Ticino to implement your idea for the extraordinary school trip!

Your multi-hour canoe trip in Ticino with the school group starts in Cresciano and thus in a sun-drenched region that attracts enthusiastic climbers as well as canyonists and canoeists. Your guides have the necessary equipment with them and will explain what is important when canoeing in a group on the Ticino.

Ideally, you have already clarified beforehand who will get into the great inflatable canoes with whom, because it starts right after the first instructions: the coolest and most unusual excursion with the class or a school group that you have undertaken so far!

During the canoe trip you are dependent on cooperating in small teams. You will find your rhythm while paddling, concentrate on making progress together as a school group, on reaching your goal.

At the same time, you will have a lot of fun canoeing and get to know one of the most exciting landscapes in Ticino. Because rock walls and palm trees, chestnut forests and sunny beaches can be found in this section as well as small rapids that make the crystal-clear water bubble and which you, even as a beginner in rafting, will successfully master in group canoeing!

After all, the fun factor is at least as important on a canoe trip for school groups in Ticino as sporting ambition and promoting cohesion in the entire group. And since your guides are always nearby, safety is well taken care of on this beautiful stretch of Ticino.
Canoeing with the school class on the Ticino: Didactics meet planning security and experienced guides
The canoe trip on the Ticino is ideal for school groups, as it can be carried out without prior knowledge. In the great outdoors, the participants learn to cooperate with each other and strengthen their self-confidence and trust in the cohesion as a group.

We support teachers who are looking for an unusual and didactically demanding idea for the next class trip with flexible, reliable and particularly simple planning. For the excursion with larger school groups, we provide you with several experienced canoe guides who will accompany you and relieve you. Depending on the chosen tariff, the ratio is 1:8 or even 1:7. As a teacher or as a pedagogical companion, you are on the safe side and can enjoy the canoe trip with the school group just as much as the students.

You can easily book with us online - and after a few minutes you will receive a confirmation by e-mail. If the minimum number of participants is reached, we will conduct the class excursion by canoe on the Ticino exclusively as a private tour for your group. With 24 paying participants and with some of our tariff options, an accompanying person can also go on the canoe tour for the school trip free of charge.

You don't have to worry about the equipment or the luggage transport either, because we provide you with all the equipment - including a life jacket and, if the weather conditions require it, wetsuits. Of course, the students only have to take care of their personal needs, for example a bathing suit and a change of clothes or medication.

If you organize your canoe trip as the crowning event of a graduation party or a graduation party with participants who are older than 16 years, you can also book an aperitif with us or choose a tariff in which it is already included. Your guides will then also provide a refreshing drink (beer or Prosecco) and small snacks - at the start or at the end of your exclusive party tour with the school group.
Here are a few tips for a successful school trip in Ticino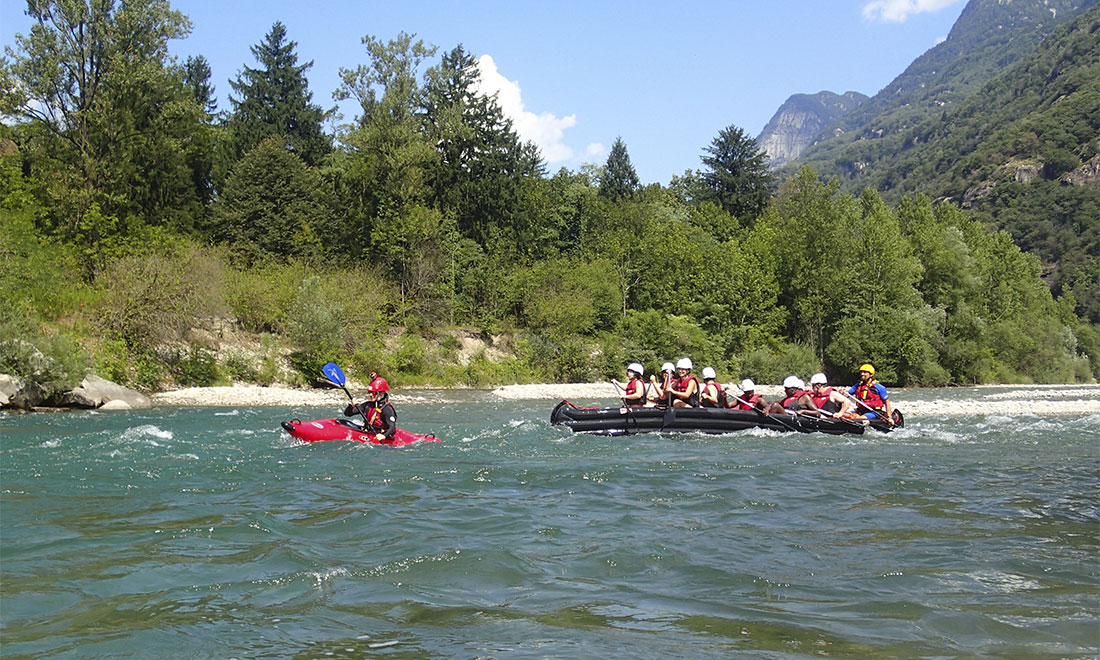 Cool ideas to round off the canoe trip with the school group or the graduation party
If you are looking for ideas for longer school trips or for an extraordinary school-is-out party, the Swiss Riviera in Ticino offers you everything that sets such an event apart from the standard trip for school groups. The canoe trip for your school class offers you action and fun in the great outdoors. In addition, you can have exuberant bathing fun at Lake Maggiore, enjoy even more action in the Adventure Park or plan great hikes and visits to Ascona or Bellinzona for your class trip.

In a typical grotto you will familiarize yourself with the regional dishes, which taste best if you have worked up an appetite during a sporty excursion with the group. You will remember the scent of the freshly baked bread, which is served with the delicious Ticino platter, for a long time! Alternatively, you can plan a barbecue or enjoy the excellent pizza and other Mediterranean dishes, which are of course traditionally prepared here in Italian-speaking Switzerland.

Ticino is also known for its clubs and discotheques, sights, castles and excellent accommodation, where school groups are always welcome. And because teachers or accompanying persons also need an hour to themselves in between, you benefit from the high level of professionalism and warmth with which hospitality is lived here on a school trip with a canoe trip in Ticino, so that the kids from a certain age can go on a discovery tour unsupervised and Renew or make new friends.
We would like to specifically encourage and motivate school groups. Furthermore, we want to give all students access to nature. True to our slogan "Outside you discover what's inside you!", experiences under the open sky are particularly important to us. Therefore, school groups with proof receive special prices and conditions.
Planning and implementation of the tour
Coordination of the canoe event on site
Supervision by certified purelements employees (certified canoe guides)
Guide-guest ratio is a maximum of 1:12
No time pressure!
Special equipment required for the tour
Photo service
Own safety standards for canoe tours
A general state of health in good health. Health impairments are taken into account when planning the tour.
Restrictions on swimming skills also.
tariff
minimum
Attendees
No-Shows ⓘ

depending on the tariff, you have a certain number of no-shows




inclusive (no-show)




means no-show on the day of the event




despite booking made) In addition, you must your




final number of participants up to the specified




Notify us of the time!

photo service
Meeting-
modification
ⓘ

Depending on the tariff, you can keep the appointment until the specified date




Change the time if necessary extra costs are due

Substitute-
Attendees
ⓘ

Depending on the tariff, you can




Exchange participants and a substitute participant




if necessary, extra costs are due

private tour
ⓘ In the case of a private tour, we do not book any more
participants to your group. you are alone
as a group with the guides on the way.
aperitif
ⓘ

Depending on the tariff, you can book an aperitif or not,




the aperitif is already included in the premium tariffs.

Flexible
start time
ⓘ

With this option you can create your own,




choose an individual start time according to your needs.

Free
person
ⓘ

This option indicates whether an accompanying

person


(bachelor, birthday child) comes on tour for FREE

Guides/
guest ratio
ⓘ

indicates how many guests




by a guide maximum




are cared for

super saver
12 people
no no shows included
final TN up to 14 days before

✓

✗

✗

✗

✗

✗

✗

1:12
saver
10 people
1 no show included
final TN up to 10 days before

✓

✓

CHF 5 per person
up to 7 days before

✓

up to 3 days before the event
15 CHF per transfer

✗

✗

extra bookable

✗

✗

1:12
Regular
8 people
up to 2 no-shows included
and 100% refundable
final TN up to 7 days before

✓

✓

up to 7 days before

✓

until the day of the event
15 CHF per transfer

✓

from 24 people
included

✗

extra bookable

✗

✗

1:12
Flex
8 people
up to 3 no-shows included
and 100% refundable
final TN up to 7 days before

✓

✓

up to 3 days before

✓

until the day of the event,
free of charge

✓

✓

✗

✗

1:12
FlexPlus
8 people
up to 5 no-shows included
and 100% refundable
final TN up to 3 days before

✓

✓

up to 3 days before

✓

until the day of the event
free of charge

✓

✓

✓

✓

1:12
Supporting program and alternatives for group members who do not want to go on a canoe tour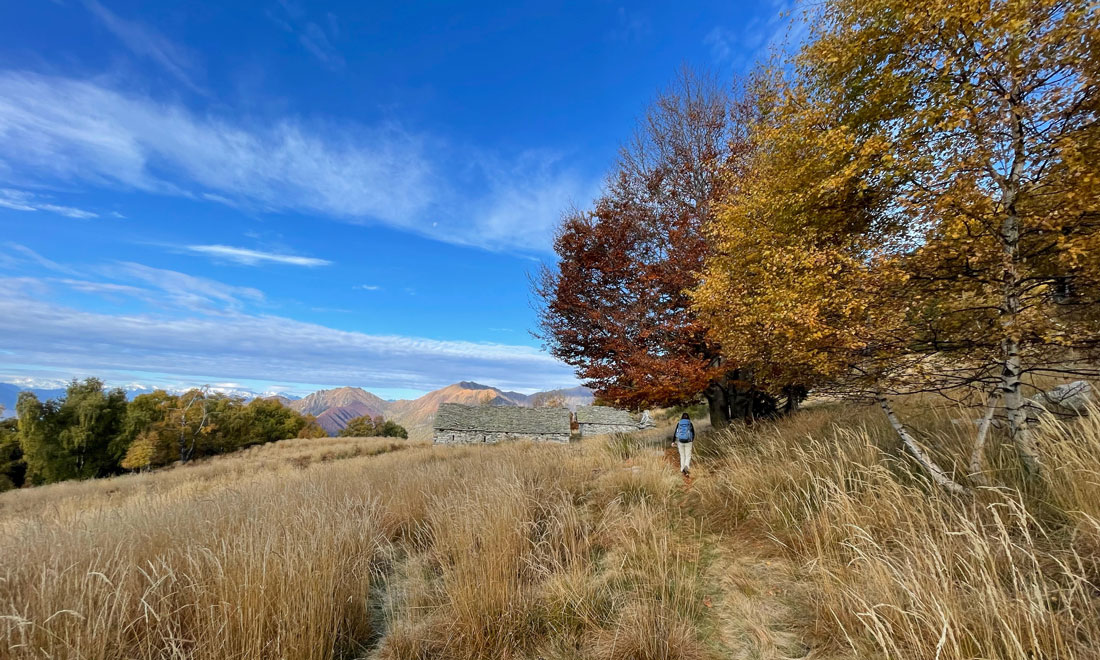 Ponte dei Salti in Lavertezzo
Visit Ascona
Wine tasting Ticino
Visit Bellinzona and its castles
Enjoy a cocktail at the Lido di Locarno
Go to the disco at the Vanilla Club
Splash & Spa Rivera
Those who do not want to do the canoe tour can take the driver or public transport to the beach in Arbedo and have something at the bar there, enjoy the river and wait for colleagues.
Hike to the Ponte Tibetano Carasc
Canyoning tour with purelements®
Visit Bellinzona and its castles
Water activities on Lake Maggiore
Hike from Cardada