Experience what canyoning really means: Canyoning in the Val Grande
Hikers love the Italian National Park Val Grande, canyonists are drawn to the gorge of the same name in Ticino, Switzerland. When we talk about canyoning in Val Grande, we mean the gorge near Gordèvio in the Maggia district.
Just looking at the pictures of this long canyon, which makes its way through the white granite rock, gives an idea of the magic that emanates from this place. In the outdoor canyoning experience, however, you are not the distant observer who mumbles "it's nice" and then goes back to business.

Instead, you get right into the action and are there with all your senses. Now and here everything depends on you and your skill. Together with a small group (maximum 7 participants per guide) you will immerse yourself in a very special canyoning experience. Jumping, sliding, abseiling or a varied combination - in the midst of the dreamy panorama, the decision to overcome your occasional hesitation is not difficult.

The gorge tour through the Canyon Val Grande is suitable for everyone who has already acquired a basic knowledge of canyoning and now wants to know what it feels like to expand your own limits step by step. Physical fitness and height ability are the most important requirements. If you meet these requirements (physical fitness and height ability) you can easily go down the gorge without previous canyoning or similar sporting experience. Our certified guides, who accompany canyoning in Val Grande and give the group an introduction to abseiling, jumping and sliding, ensure your safety.
Video 3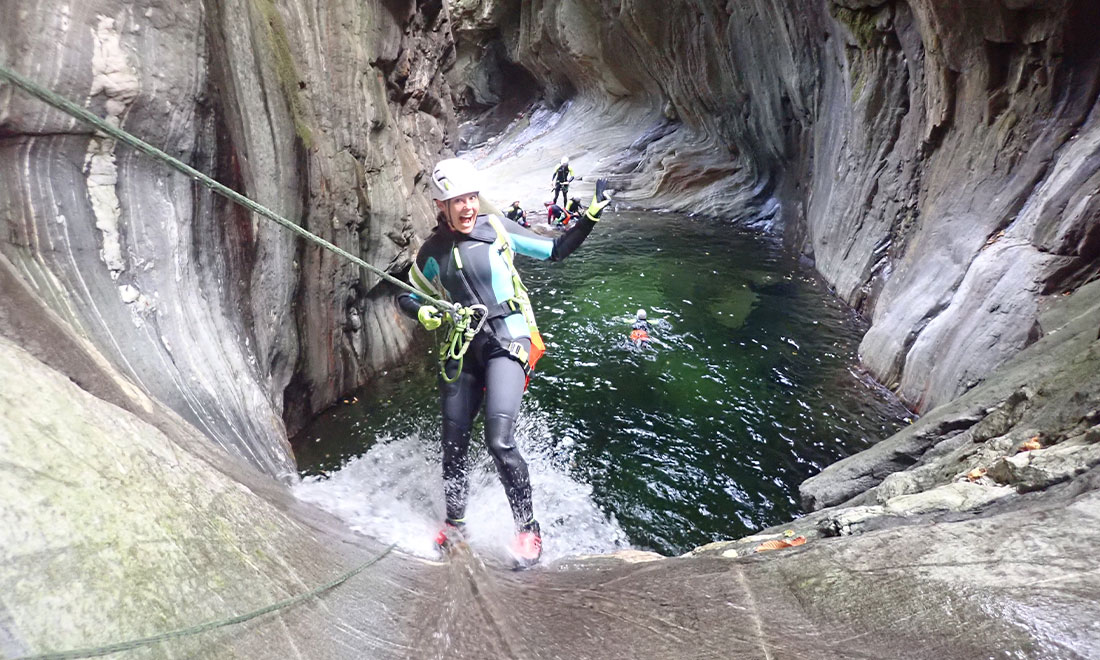 Varied canyoning tour in Val Grande on the pro level
From the outside, it looks like the Val Grande canyon isn't much of a challenge. But the first impression is wrong. You are on a canyoning tour of medium difficulty, which is why we offer canyoning in Val Grande on the pro level. Of our level pro tour selection, Val Grande is the easiest of them. Suitable for those who want to take a little step up after a basic canyoning experience.

Our pro level is aimed at experienced canyonists and people who are active in related sports and who therefore dare to cross the gorge at Gordèvio. You do not need any special equipment, wetsuits, helmets and more are already included in the fee for your canyoning experience.

One of the highlights of the tour is the 25-meter-high waterfall, which the residents of the region also refer to as "Little Niagara". But not only this exceptionally beautiful waterfall will inspire you. After just a few steps, when we concentrate completely on ourselves and the canyoning experience away from cell phone masts and civilization, you literally suck in the power of the elements and the play of light and shadow, water and rock, and finally become part of it.

A wonderful introduction to this wonderful outdoor experience in Ticino is already possible with the ascent that leads us through the old chestnut forests of the Maggia valley. One last look back, one last check of the equipment, and then things really get going. From now on we only look at what surrounds us and at the goal that we all want to achieve together.
For sporty beginners and repeaters
Have you ever done canyoning with us or anywhere else in the world? Are you sporty and have brave friends? Then on! The Ticino canyons are getting longer, the gorges on the south side of the Alps deeper and the experience bigger!
required previous knowledge
Planning and implementation of the canyoning tour
Coordination of the canyoning event on site
Support from certified purelements employees (certified canyoning guides)
Guide-guest ratio is a maximum of 1: 7
No time pressure!
Special equipment required for the tour
Photo service
Own safety standards for canyoning
With heart and senses on the matter: Your canyoning experience in Val Grande
Canyoning in Val Grande is an outstanding experience for climbers, swimmers, jumpers, abseilers, divers – for everyone who has already discovered canyoning with all their passion. Since the tour takes place on the pro level, the following also applies here: there is no compulsion to take part in certain jumps or abseiling actions. Together we want to have fun, find out about each other, meet everyone at the point where they are at the moment.

So if you notice during the tour that a jump or a slide still demands too much respect from you, our guides will of course also respect that and will help you overcome the passage in another way.

The gorge tour in Val Grande is most fun when you are open to new experiences - including getting to know yourself in new ways. In addition, most canyonists love to discover hidden places and get involved in an outdoor experience full of surprises.

If you book canyoning in Ticino as a group or family, it will be a connecting experience that you will remember with pleasure for a long time. Singles and couples often make new contacts on our canyoning tours who have what it takes to become friendships for life.