Here you are in your element: Canyoning in Boggera
Fire, water, earth, air – as children we were pretty sure that everything on our planet was made of these four elements. If we replace fire with light today, then it is precisely these four elements that make canyoning as an outdoor experience so exciting. After all, canyoning in Boggera also stands for at least two experiences: On the one hand, there is the sport that includes the disciplines of swimming, diving, climbing, hiking, jumping, sliding and abseiling. And then there is the canyon, with its pure power of the elements, which we are currently crossing.

When canyoning in Boggera you will deal intensively with the gorge and the elementary forces that have created it. The wide opening of the canyon to the Valle di Cresciano allows you to explore its secrets in the sparkling sunlight. Its water park-like facility makes it possible to slide down the suitable rocky passages with great pleasure or jump into emerald green pools and then relax and splash around in them. When abseiling you will feel what it is like to have no more ground under your feet and still know that you are held well and safely.

Granite rock, waterfalls, jumps from lofty heights into crystal clear pools and all that warming sunlight - these are the components that condense into a sensual experience when canyoning in Boggera. How far you go then, which jumps and which abseiling passages you dare to do, remains your decision! In order to be able to enjoy the entire tour, you should ideally have some previous experience in canyoning.
Slide 1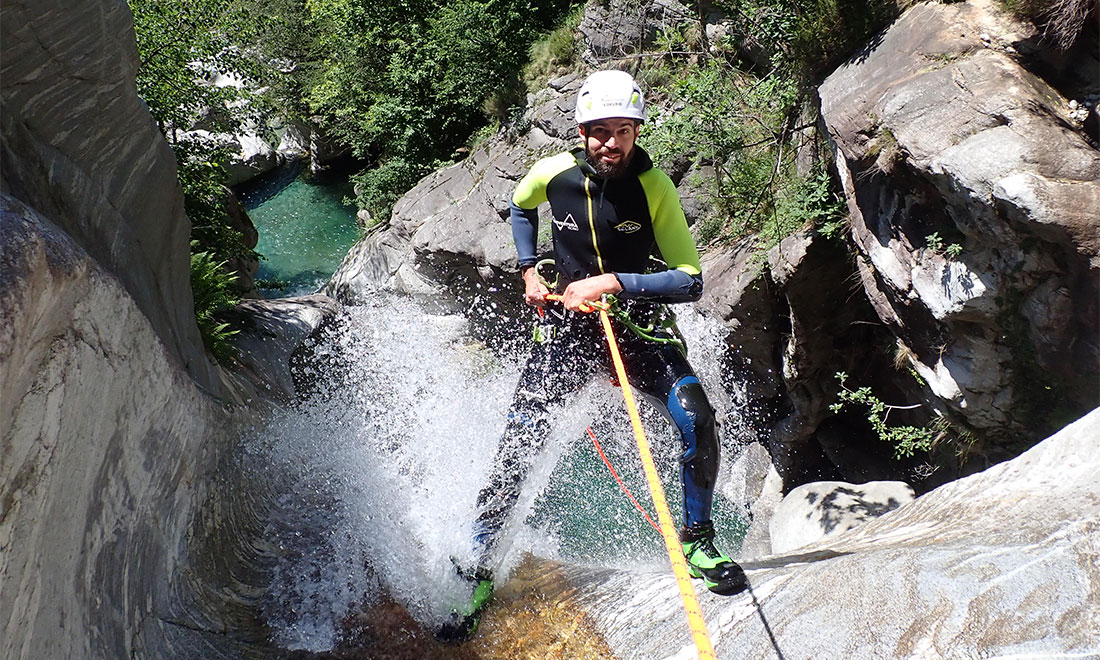 Canyoning pro for advanced riders in the magical Boggera Gorge
The Boggera Gorge in the Riviera region is one of the most popular gorges in Ticino. It is particularly popular in the holiday months of July and August. This is where anyone who has already been captured by their passion for canyoning or who would like to see for themselves what this fascinating trend sport is all about.

The canyon in the Valle di Cresciano can be partially crossed on beginner tours. If you would like to register as a group or family, simply contact us and book your private canyoning guide. As a planned tour, which you can register for online, we offer canyoning in Boggera on the Pro level. Because only the first part of the gorge tour in Ticino is suitable for beginners, the further we go into the gorge, the greater the challenges.

The jumps during this outdoor experience are all optional, even for advanced, and you can get off at many points if the level overwhelms you. But in the end it doesn't make sense to sign up for a tour that you can't do to the end.

On our website you will find a large number of other exciting guided canyoning tours very close to Boggera in various levels of difficulty. If you are unsure whether canyoning in Boggera is the right choice, please contact us for a personal consultation!