header
Canyoning with purelements®
Close to nature, sporty, adventurous: Canyoning in Switzerland
Slide 1
Our highlight: Canyoning basic in Corippo, Verzasca Valley!
Video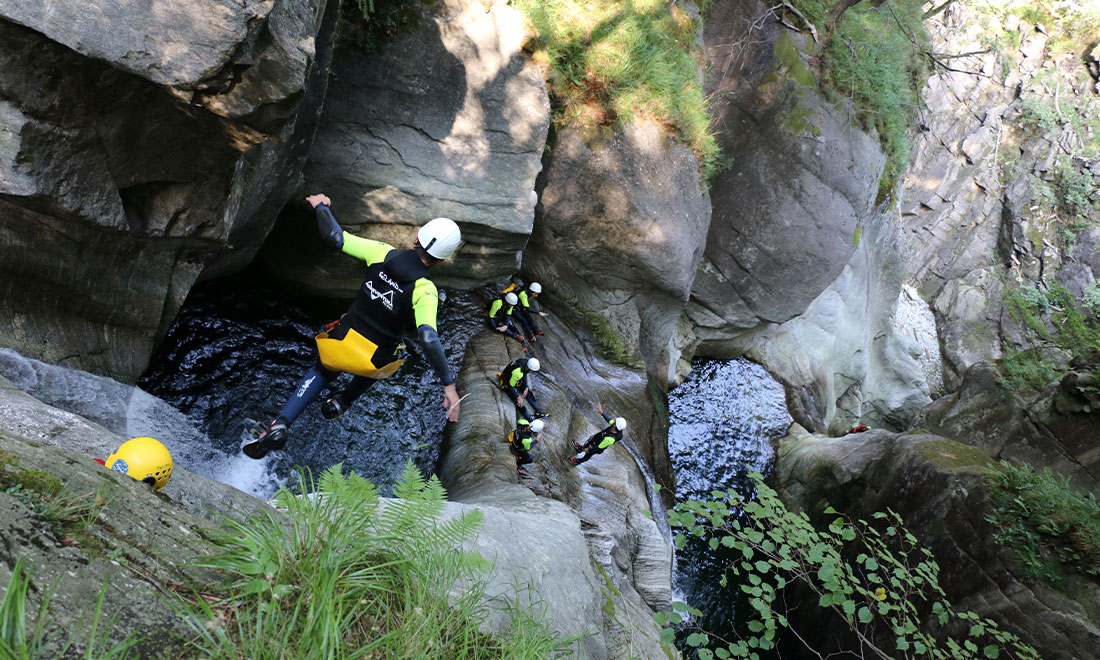 How is canyoning in Ticino?
Regions
Crystal clear mountain lakes, gorges that are just as suitable for jumping as they are for abseiling, the breathtaking view of a unique panorama: canyoning in Switzerland is one of the unforgettable outdoor experiences that your friends will long rave about.

The canyoning or gorge tours take us to Italian-speaking Ticino. Here, in the sunny south of Switzerland, the holiday mood immediately arises, so that you can take on the challenges that the canyoning tour presents you in a relaxed manner. But you will soon feel the first kick when we leave our comfort zones together and go in harmony with nature in untamed landscapes.

Jumping, abseiling, sliding, climbing, swimming or diving - canyoning in Switzerland is all about the here and now. About your skill, your courage, your desire to explore your own limits.

So that the outdoor experience canyoning is neither too demanding nor too less demanding for you, we offer courses at different levels. So you can take your first gorge tour in Switzerland at a leisurely pace. Or you can book an expert level for a canyoning experience without missing a jump or waterfall.
Level of difficulty
If you are taking part in a canyoning tour in Switzerland for the first time, we recommend that you take a basic course. The gorges in Ticino are sometimes very challenging, which is why we choose the perfect routes so that even beginners can easily cope with all difficult passages. Our canyoning tours basic take us into the beautiful gorges of Verzasca Valley, Centovalli or Val Vira.

For families it is advisable to book a canyoning tour from the "Family" offer, as you can go on an adventure tour in Ticino individually or with other families together. Our guides know how to deal with children well, understand how to convey the introductory safety instructions in a child-friendly manner and take great pleasure in seeing how even the youngest participants grow in the challenge.

All courses with a lower level of difficulty have in common that we do not force anyone to do anything. So if you need a little motivation or a helping hand, our canyoning guides are the right companions. If you cannot bring yourself to a jump or a rappel action with the best of will, then they will accept that and show you how you can take an alternative path to the next challenge, which you will then master with a lot of joy.
Special offers
Advanced canyoning experts and experts get their money's worth with our outdoor experiences in Switzerland. The day tours take us into the most beautiful and difficult gorges that Ticino has to offer, be it in the Maggia valley, the Rivieratal, the Blenio valley or the Verzasca valley. On all tours you can perfect your previous knowledge and expand your limits on particularly angular or steep gorges. And because we canyonists particularly love nature and the outdoor experience, you will also be impressed by the panorama and the wild seclusion of canyoning in Switzerland.

In addition to the one-day canyoning experiences for advanced skiers, we also run a number of special canyoning tours in Switzerland. This includes:

• "Adaptive canyoning", which is aimed specifically at people with disabilities or impairments. The only requirement is: You have to be able to manage all types of locomotion on your own (at your own pace), i.e. be able to run, climb, swim. We offer canyoning adaptive in Switzerland at the Basics, Pro or Expert levels.

• Heli-canyoning, during which a helicopter takes us to one of the impressive gorges in Ticino. The experience starts early Friday evening and ends on Sunday evening. In between there are exciting hours and days in which we pass and master up to 70 waterfalls and numerous jumps from heights of up to 12 meters.

• our multi-day canyoning camps in Switzerland. You have the choice between 3, 4, 6, 7 or 9-day fabulous canyoning experiences, during which we go on tour over several days. A nice experience for singles who want to share their passion for canyoning with others, as well as for groups of friends, couples or teams who want to strengthen their cohesion.