header
Canyoning for school groups
Group canyoning in Ticino – an unusual idea for a cool trip by and with school groups
Do you want to go on tour with your school class and are you looking for cool ideas for a school trip? Would you like a destination for a class trip that not only offers a fascinating and challenging experience of nature but also lots of fun? Team spirit is exactly your thing and you are looking for an outdoor experience that will further bond you as a group?

Or do you, as a student or teacher, want a group trip that can be combined with varied activities for the school group instead of a boring standard class trip?

Then a canyoning tour for school groups is a great alternative to the usual standard excursions for school classes! The group canyoning, accompanied by our experienced guides, teaches the way it should be in a moving way: As a participant, you come into contact with the elements of an almost untamed nature that demands respect from you. The cell phone stays out for a few hours, because during your adventure in the gorge you won't have any reception anyway. In return, you will be receptive to yourself, your group and the pure action on the wild stream when climbing, sliding and abseiling.

So whether you are a teacher looking for a destination for schoolchildren in Switzerland that will inspire you all together; or whether you as a group are just preparing for the Matura celebration and can do without the usual run-of-the-mill event: on the canyoning tours by purelements in Ticino, you as a group are completely alone and always on the move. Physically, mentally, spiritually. Because our canyoning tours take you through gorges and landscapes that you, if you are a beginner in canyoning, are guaranteed to have never seen or experienced "in real life".
Advantages for teachers and accompanying persons on the school excursion in Ticino: flexible conditions and support from experienced guides make planning easier
Some call it "learning in a different place", others "moving school". We call it quite simply: a fantastic outdoor experience that leads even the youngest to become more self-confident and to change their attitude towards nature and to see their surroundings with new eyes.

As an excursion idea for school groups, our canyoning tours pursue the goal of promoting not only fun and sportsmanship but also the access of schoolchildren to the elements and to the elementary forces within themselves. Everyone has the opportunity to grow with the challenges - individually as well as with regard to the cohesion in the class.

And because the whole thing takes place in a breathtaking landscape and a relaxed atmosphere, this aspect is experienced but not found to be strenuous or "teaching". The idea of planning a school trip as a connecting outdoor event also provides a helping hand when trying to resolve small conflicts or rivalries in the school group in a playful way and in the best team spirit.

If you, as a teacher, are asking yourself how you can strengthen class cohesion and at the same time book a great event for the school trip without immense effort, we are probably just what you need with our flexibly bookable canyoning tours. Our experienced guides, who accompany you on a school trip in Ticino, are just as familiar with the gorges as they are with the group dynamics that arise. They also ensure your safety, show you the important steps you need to know when using the rope, for example, and take funny snapshots that you can of course take home afterwards.

We make planning easier for you by conducting three tried and tested tours that are easy for secondary school classes to manage. These include the try-out excursion in Val di Vira, group canyoning basic in Corippo and canyoning pro for school groups in Boggera. The conditions can also be booked flexibly, because we offer you graduated rates, which we have already taken into account that school classes usually only have a limited budget. For every 12 paying participants, one accompanying person is already included in the total price.
Here are a few tips for a successful school trip in Ticino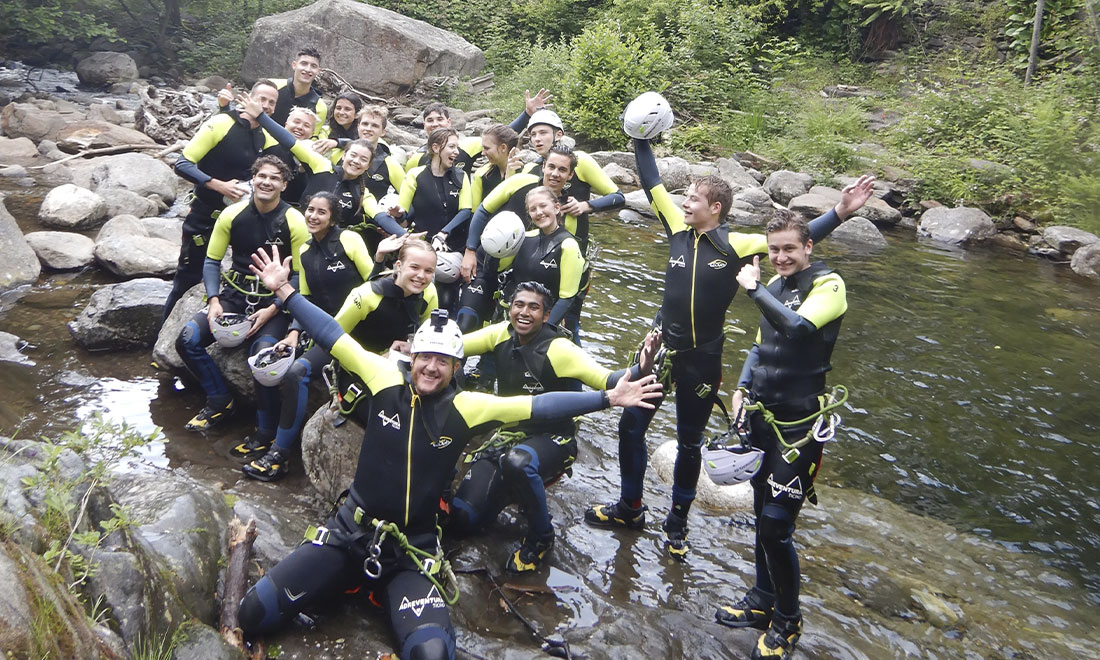 Cool idea for your school trip or graduation party in Switzerland
Are you already in secondary school or do you attend a different type of school and are you looking for ideas for a cool weekend trip as a group of students? Because graduation is approaching or because you just feel like doing something together again that takes you beyond the narrow school corridors?

In Ticino there are countless ways to organize a class trip for a day, a weekend or even a whole week and to combine it with group canyoning.

A canoe tour on the Fiume Ticino, for example, which splashes merrily through the alluvial forests. On Lake Maggiore, from which the Fiume Ticino flows, you can also pursue numerous other water sports activities - or simply chill out on the beach for an afternoon. Are you in the mood for a class trip where you can go hiking or biking, visit museums and castles and feast on the legendary Ticino menu? Or should it be a spontaneous adventure trip with an overnight stay at the campsite, an evening barbecue and a night hike?

For older people who want to celebrate their Matura or another final exam, the popular clubs and locations in the region are of course an important reason to plan a trip to Ticino with the school group. There is no question that old friendships will be strengthened and new ones made, that you will realize the idea of a class trip together, which you will think back to with shining eyes years later.
We would like to specifically encourage and motivate school groups. Furthermore, we want to give all students access to nature. True to our slogan "Outside you discover what's inside you!", experiences under the open sky are particularly important to us. Therefore, school groups with proof receive special prices and conditions.
Planning and implementation of the tour
Coordination of the canyoning event on site
Support from certified purelements employees (certified canyoning guides)
Guide-guest ratio is maximum 1:7 or 1:8
No time pressure!
Special equipment required for the tour
Photo service
Own safety standards for canyoning
A general state of health in good health. Health impairments are taken into account when planning the tour.
Restrictions regarding a head for heights and swimming skills as well.
tariff
minimum
Attendees
No-Shows ⓘ

depending on the tariff, you have a certain number of no-shows




inclusive (no-show)




means no-show on the day of the event




despite booking made) In addition, you must your




final number of participants up to the specified




Notify us of the time!

photo service
Meeting-
modification
ⓘ

Depending on the tariff, you can keep the appointment until the specified date




Change the time if necessary extra costs are due

Substitute-
Attendees
ⓘ

Depending on the tariff, you can




Exchange participants and a substitute participant




if necessary, extra costs are due

private tour
ⓘ In the case of a private tour, we do not book any more
participants to your group. you are alone
as a group with the guides on the way.
aperitif
ⓘ

Depending on the tariff, you can book an aperitif or not,




the aperitif is already included in the premium tariffs.

Flexible
start time
ⓘ

With this option you can create your own,




choose an individual start time according to your needs.

Free
person
ⓘ

This option indicates whether an accompanying

person


(bachelor, birthday child) comes on tour for FREE

Guides/
guest ratio
ⓘ

indicates how many guests




by a guide maximum




are cared for

super saver
12 people
no no shows included
final TN up to 14 days before

✓

✗

✗

✗

✗

✗

✗

1:8
saver
12 people
1 no show included
final TN up to 10 days before

✓

✓

CHF 5 per person
up to 7 days before

✓

up to 3 days before the event
15 CHF per transfer

✗

✗

extra bookable

✗

✗

1:8
Regular
12 people
in Val Vira
10 people
in Boggera & Corippo
up to 2 no-shows included
and 100% refundable
final TN up to 7 days before

✓

✓

up to 7 days before

✓

until the day of the event
15 CHF per transfer

✓

from 12 people
included

✗

extra bookable

✗

✗

1:8
Flex
12 people
in Val Vira
10 people
in Boggera & Corippo
up to 3 no-shows included
and 100% refundable
final TN up to 7 days before

✓

✓

up to 3 days before

✓

until the day of the event,
free of charge

✓

✓

✗

✗

1:8 in Val Vira
1:7 people
in Boggera & Corippo
FlexPlus
12 people
in Val Vira
10 people
in Boggera & Corippo
up to 5 no-shows included
and 100% refundable
final TN up to 3 days before

✓

✓

up to 3 days before

✓

until the day of the event
free of charge

✓

✓

✓

✓

1:8 in Val Vira
1:7 people
in Boggera & Corippo
Framework program and alternatives for group members who do not want to do canyoning