header
Club trips with canyoning
Group canyoning in Ticino: the excursion tip for clubs and associations
When the sports club travels together, it is obvious that nobody wants to spend a whole weekend just sitting down. Instead, a cool outdoor event like canyoning, where you get to know a new sport and immerse yourself in the fascinating nature of the Swiss canyons, proves to be a welcome change.

In our experience, not only those who are already sports enthusiasts, but also a society for philatelists or the aquarium club are always on the lookout for unusual ideas for the next club outing or club outing.

A group canyoning in Ticino is therefore the perfect idea for an excursion if you want to do and plan something different together than the next bowling evening or a run-of-the-mill event. Because the outdoor experience for groups, associations and clubs does not only lead you to the most beautiful and popular gorges in Switzerland. It also leads you to each other and beyond you, so that the cohesion in the group is enormously strengthened. Of course, you decide for yourself whether fun and games should be the focus of confidence-building measures. Both are always given when canyoning as an excursion tip for clubs and associations.

As "Switzerland's sunniest place", Ticino offers you a multitude of opportunities to combine varied activities in picturesque landscapes with detours to famous sights and places. So whether you are looking for ideas for a club outing lasting one or more days or want to combine the best and most exclusive excursion tips for a club outing: Ticino is one of the most popular Swiss excursion destinations for clubs and associations. The offer is correspondingly wide and the hospitality is correspondingly large.
Club outing with a wow effect and a good mood while canyoning in Switzerland
The focus of your club excursion is of course canyoning, which as a sport is perfect for strengthening cohesion and bringing club members closer to each other who otherwise have little to do with each other. Our group excursions take you to try-out canyoning in the Val di Vira, as a basic tour to Corippo or as canyoning pro for sporty types to the Boggera gorge.

All three tours can be easily mastered by beginners. If you register as a sports club with well-trained members, for example as a tennis club, trampoline or round-net club, or as an enthusiastic supporter of the scouting movement, you will find the greatest challenges on the pro tour through the sunny Boggera Gorge in the Valle di Cresciano.

Group canyoning is the most fun as a club outing when all members take part in the planned activities. For people with a pronounced fear of heights or with a physical handicap, however, the inhibition threshold can be too high. If you still want to book group canyoning for your excursion as a club, there is the possibility that individual participants first hike to the gorge with the group and then only watch during the actual tour or devote themselves to other activities.

If you are planning a club outing lasting several days, simply add activities to the canyoning tour in Ticino that everyone can take part in. In this way everyone gets their rights and you also strengthen the group by respecting the individuality of each and every one of you.
Here are a few tips for a successful Team Away weekend in Ticino
Arrival on Friday evening by car, bus or public transport.
Fine evening meal in a special restaurant or in a grotto with typical Ticino dishes: polenta, alpine cheese, Ticino platter, formagella, onion soup.
Go to bed early to be fit for the canyoning tour 😉
Good breakfast

Canyoning tour with purelements®

Enjoy an aperitif in Ascona

Dinner with a good pizza at Ristorante Lungo Lago in Locarno

Cozy evening in Locarno or wild party in the disco if you are already 18!
deserve a lie-in

Today is time for relaxation! And the best way to do that is at the Splash & Spa in Locarno or with a visit to the Falconeria in Locarno.

After a weekend like this, you can only go home in a good mood and relaxed

😀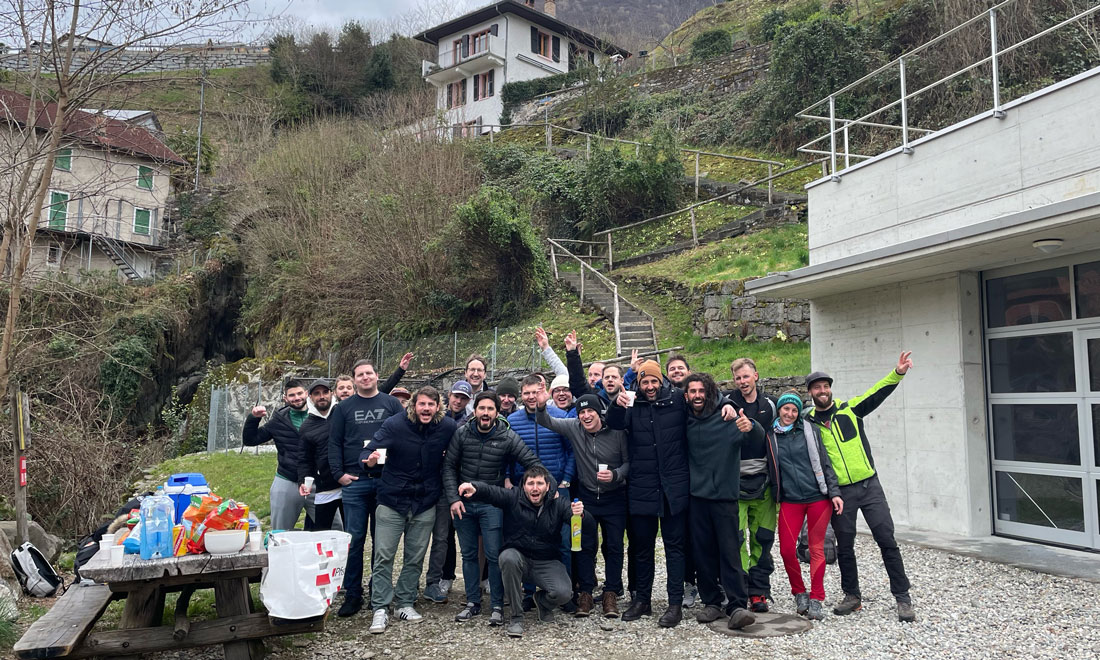 Group canyoning for associations and clubs: simple and flexible planning with purelements
As an experienced organizer of group events, we at purelements take some of the things you need to take into account when planning club outings. As a club or association, you go on a private tour with our guides, which means you are all by yourselves. The guide takes care of your safety, explains in a simple and understandable way how to abseil or what else needs to be considered.

During your stay in the gorge, he keeps an eye on all club members, is happy to lend a helping hand and takes great photos of you in action with his cell phone camera. And if you feel like ending your club outing with an aperitif, you can also book that when you register.

Our flexible group rates also make planning easier for you. For example, you can decide in advance whether you want to protect yourself against the so-called no-shows (short-term cancellations or non-appearance of registered people) or whether you want to remain flexible with regard to the start time and the final number of participants.

Good mood and team spirit are not part of the booking, but are reliable companions on our tours for clubs and associations. Of course, you are the main contributor to this, but you can count on the sheer power of the elements you come into contact with on this extraordinary excursion to play their part, as well as the emerald green shimmer of the waters, the crystal-clear bubbling of the Waterfalls that you slide down with joy or the unique feeling of following the course of a river that has carved its own path over many centuries.

If you emerge from the magical experience again, a whole range of activities can be added to your club outing. Enjoying typical Ticino dishes and drinks in a restaurant, for example, visiting a wine tavern or grotto, hiking to the Ponte Tibetano Carasc, visiting the famous city of Bellinzona and its castles or chilling out on Lake Maggiore. So you don't have to look far for ideas for your club outing - all you have to do is grab and book!
We know how difficult it is to plan a group. On the day of the adventure, someone has to cancel or falls ill, which is why we have put together packages that will make it easier for you. You choose which tariff you want and have the specified no-shows (short-term cancellations, non-appearance at the event) included and, if the worst comes to the worst, we will even reimburse you in full. Furthermore, you only have to determine and report your final number of participants by the day specified in the tariff. This gives the organizer of the group flexibility and financial security.
Planning and implementation of the tour
Coordination of the canyoning event on site
Support from certified purelements employees (certified canyoning guides)
Guide-guest ratio is maximum 1:7 or 1:8
No time pressure!
Special equipment required for the tour
Photo service
Own safety standards for canyoning
A general state of health in good health. Health impairments are taken into account when planning the tour.
Restrictions regarding a head for heights and swimming skills as well.
tariff
minimum
Attendees
No-Shows ⓘ

depending on the tariff, you have a certain number of no-shows




inclusive (no-show)




means no-show on the day of the event




despite booking made) In addition, you must your




final number of participants up to the specified




Notify us of the time!

photo service
Meeting-
modification
ⓘ

Depending on the tariff, you can keep the appointment until the specified date




Change the time if necessary extra costs are due

Substitute-
Attendees
ⓘ

Depending on the tariff, you can




Exchange participants and a substitute participant




if necessary, extra costs are due

private tour
ⓘ In the case of a private tour, we do not book any more
participants to your group. you are alone
as a group with the guides on the way.
aperitif
ⓘ

Depending on the tariff, you can book an aperitif or not,




the aperitif is already included in the premium tariffs.

Flexible
start time
ⓘ

With this option you can create your own,




choose an individual start time according to your needs.

Free
person
ⓘ

This option indicates whether an accompanying

person


(bachelor, birthday child) comes on tour for FREE

Guides/
guest ratio
ⓘ

indicates how many guests




by a guide maximum




are cared for

super saver
12 people
in Val Vira
10 people
in Boggera & Corippo
no no shows included
final TN up to 14 days before

✓

✗

✗

✗

✗

✗

✗

1:8
saver
8 people
1 no show included
final TN up to 10 days before

✓

✓

CHF 5 per person
up to 7 days before

✓

up to 3 days before the event
15 CHF per transfer

✗

✗

extra bookable

✗

✗

1:8
Regular
6 persons
up to 2 no-shows included
and 100% refundable
final TN up to 7 days before

✓

✓

up to 7 days before

✓

until the day of the event
15 CHF per transfer

✓

from 12 people
included

✗

extra bookable

✗

✗

1:8
Flex
6 persons
up to 3 no-shows included
and 100% refundable
final TN up to 7 days before

✓

✓

up to 3 days before

✓

until the day of the event,
free of charge

✓

✓

✗

✗

1:7
FlexPlus
6 persons
up to 5 no-shows included
and 100% refundable
final TN up to 3 days before

✓

✓

up to 3 days before

✓

until the day of the event
free of charge

✓

✓

✓

✓

1:7
Framework program and alternatives for group members who do not want to do canyoning